Introducing NOAH Buy and Sell for Instant, Global, and Transparent Bitcoin Purchasing
Get ready for a simpler, faster, and more secure way to buy cryptocurrency. NOAH Buy and Sell offers instant buying in over 110 countries with transparent fees, flexible investment options, and up-to-date market information. Find out more in our latest blog post.
Index

Flexibility At Your Fingertips
Why has it taken so long for the crypto world to offer a simple solution to accessing cryptocurrency? Since the advent of Bitcoin, we've been promised easier transactions, more accessibility, and greater financial freedom for all. While companies have launched trading platforms, exchanges, and even payment platforms, buying cryptocurrency has remained a cumbersome and convoluted process.
Until now.
Today, we're excited to announce NOAH Buy and Sell, the newest offering from our growing suite of products. NOAH Buy and Sell provides a simple, fast, secure, and cheap way to buy cryptocurrency. All you need is a NOAH account and a Visa or Mastercard credit/debit card, and you're ready to go.
We understand that our users want a simpler, more accessible way to buy bitcoin. That's why NOAH Buy and Sell provides instant buying in over 110 countries, with no waiting, no delays, and no complications.
Society has the technology to give you immense tools at your disposal, and NOAH Buy and Sell brings you one step closer to making that a reality.
Global Reach
At NOAH, we are dedicated to fostering a future where finance is accessible to all, regardless of geographical location. With this integration, NOAH can now accept fiat bank card payments from customers globally in exchange for bitcoin. Yes, that means that you can use your Visa or Mastercard to buy or sell bitcoin.
With a reach beyond borders, NOAH Buy and Sell offers a much-needed solution to the traditional limitations of buying cryptocurrency. By accepting fiat bank card payments globally, we hope to increase accessibility for those previously excluded from participating in crypto.
At NOAH, we're all about speed and convenience. We know that the world moves at lightning speed, and we're here to ensure that buying cryptocurrency is as fast and easy.
That's why we're thrilled to offer instant buying in over 115+ countries. From the moment you hit "Buy," your bitcoin is ready to use. No waiting, no delays - just pure, unadulterated speed.
The world moves fast, and we want to get everyone up to that speed.
We want everyone to have the opportunity to experience the financial freedom and flexibility that comes with cryptocurrency. And with NOAH Buy and Sell, we're making that a reality - one lightning-fast transaction at a time.
Transparency
What sets NOAH Buy and Sell apart from its competitors is transparency. With an easy-to-understand fee for debit and credit purchases, NOAH Buy and Sell eliminates the confusion and complexity of additional fees based on region or currency denomination. In addition, our transaction pricing model will be simple and transparent for buying — $1.20 or 4.5%, whichever is more. This will cover all costs on our end — we charge no additional fees.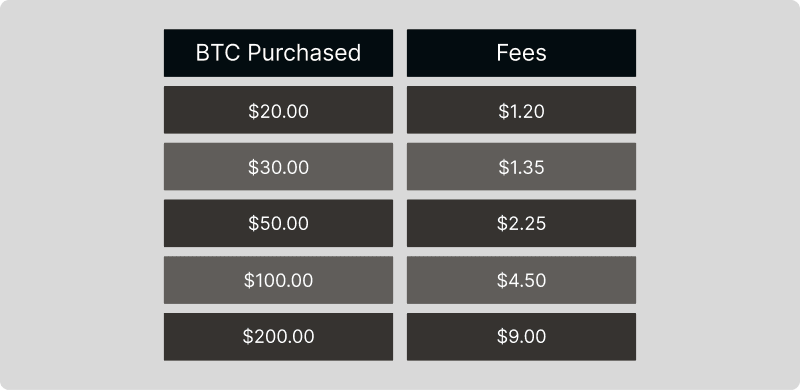 Access to accurate and up-to-date pricing information is crucial in the fast-paced world of cryptocurrency. Our price feed refreshes every 15 seconds, ensuring that users always have access to the most current market information. Why is this so important? We want to ensure that our customers always pay the most competitive rate for their cryptocurrency and avoid unnecessary losses due to market volatility. Accuracy is a foundation of transparency — and that's precisely what NOAH Buy and Sell offers.
Flexibility At Your Fingertips
Flexibility and control are in NOAH's DNA, and NOAH Buy and Sell delivers on both. With a low minimum investment of $20 and no maximum, you can invest as much or as little as you like. In addition, our platform is accessible from anywhere, anytime, whether you use a browser or our Progressive Web Application (PWA) on your phone.
NOAH Buy and Sell also accepts various currencies, with no foreign exchange fees for USD . In the future, our platform will also offer the option for Dollar-Cost Averaging (DCA), expanding the flexibility of our platform and giving customers even more control over their assets.
And once your bitcoin is in your wallet, you can do whatever you want. Use it for purchases using Bitrefill, hold it, or even gift it to a loved one. With NOAH Buy and Sell, flexibility goes a long way.
Why This Matters For You
In a constantly evolving financial landscape, the integration of NOAH Buy and Sell brings a much-needed simplicity to the world of cryptocurrency. No longer must individuals navigate a labyrinthine and convoluted process to buy digital assets. From the moment you buy, your balance is ready. No 5-7 business days. No holds. It's simply ready. NOAH Buy and Sell ushers in a new era of ease and accessibility, offering a solution that is both secure and affordable.
This integration represents a much-needed step forward in advancing financial freedom. We aim to untangle the complexities of buying crypto and make them distant memories — so anyone can participate with ease. Simplicity and security are not mere technicalities but rather crucial components of a brighter future.
In this rapidly changing world where traditional finance is stuck in the past, NOAH Buy and Sell helps bring us into the future. From the start, we've been committed to making cryptocurrency more accessible and secure for everyone. With NOAH Buy and Sell, we've taken a massive step toward fulfilling our vision of creating an easy, secure, and affordable way to buy cryptocurrency. We want anyone to embrace ease, convenience, and versatility with the confidence that they are getting a great deal. With NOAH Buy and Sell, you can do just that.
We're just getting started. As NOAH Buy and Sell grows in the coming months, we'll expand our features to include more countries, more currencies, and even more flexibility for our users. This is only just the beginning. So climb aboard the Ark and join us.
Please note that purchasing Bitcoin with NOAH is restricted to individuals who are 18 years of age or older.
Please be aware that: Cryptocurrencies are unregulated in the UK; Cryptocurrencies are not protected under Financial Ombudsman Service or Financial Services Compensation Scheme (FSCS); Profits may be subject to capital gains tax; The value of investments can go down as well as up.