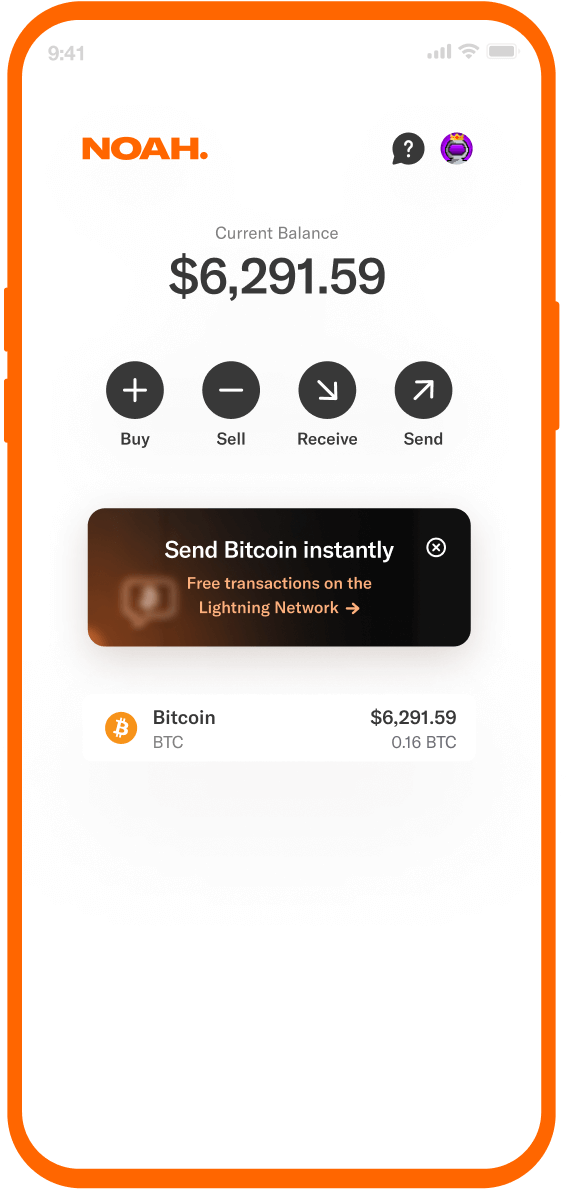 Embark on a Journey
Begin your adventure with the NOAH app and unlock a future that's beautiful, simple, and borderless.
Get started
Sign up to the NOAH App, verify your email, and handpick your unique Username – the key to your personalized lightning address.

Start investing, sending, and receiving Bitcoin and stablecoins instantly.

Pay out your Bitcoin and stablecoins into 40+ Currencies, whenever you want and with ease.
Buy and Sell Globally via Bank Transfer, Visa Master Card, Apple Pay and Google Pay Currencies in over 115+ countries
Buy
At NOAH, our passion lies in providing unparalleled accessibility to our users. With seamless integration of popular payment options such as Apple Pay, Google Pay, bank transfers, and debit/credit cards, you can buy in under 30 seconds.
Find out more
Sell
Step into NOAH's bitcoin wonderland, where converting your bitcoin and stablecoins into spendable currency with Visa and Mastercard is a breeze!
Find out more
Unlocking Instant Global Transactions with Zero Fees
With NOAH, you can seamlessly conduct global Bitcoin and Dollar Stablecoin transactions. Whether you're looking to make purchases or payments, NOAH empowers you to do so effortlessly in any currency. It enables you to facilitate worldwide transactions across various currencies or engage in lightning-fast, fee-free Bitcoin payments via the Lightning Network.
Sign up now